Roll Group has loaded out a jacket destined for the Seagreen wind farm project in Ras Al Khaimah, the UAE.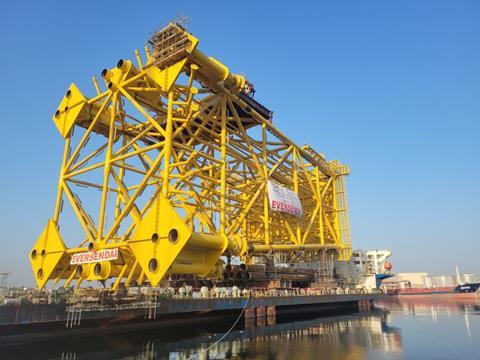 On behalf of Eversendai Offshore, Roll Group used 238 axle lines of SPMTs with 11 power packs to move the structure.
Roll Group's manager of special projects Roel Wesel said: "This project signifies the steady growth of Roll Group with its land activities. Over the past two years Roll Group Middle East and Asia has seen a continuous increase of its capabilities by performing ever larger and heavier moves.
"The new milestone of 6,500 tonnes puts Roll Group firmly on the map as land-based heavy lifting and heavy transport provider. With its combination of heavy transport vessels and land-based heavy lifting and transport equipment, Roll Group is able to provide complete in-house scopes from factory to foundation."