Earlier this year, Sarens installed the first prototype of the fully automated Seawing kite aboard the ro-ro vessel Ville de Bordeaux in La Rochelle, France.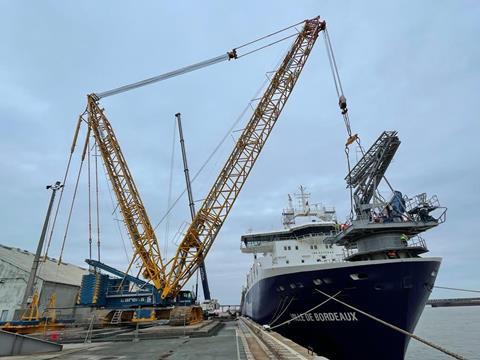 Seawing, developed by Airseas, is a 500 sq m parafoil that flies at an altitude of 200m and harnesses wind power to provide thrust. It is estimated to reduce fuel consumption and emissions from cargo ships by up to 40 percent.
Ville de Bordeaux transports aircraft components between France and the USA and the Seawing is being tested aboard for six months. The 120-tonne piece of kit was lifted and installed using Sarens' SL3800 crane.
Due to heavy wind onsite, the Sarens crew has just a four hour window to perform the lift. A 6 m tidal range and waves affected the stability of the vessel. Since this was the first time a Seawing had been installed on a vessel, the exact centre of gravity and symmetry was unclear.
The SL3800 and two layers of wooden mats were deployed to manage the ground bearing pressure (which was just 7.5 tonnes per sq m). By providing extra rigging equipment and performing a test lift, Sarens was able to level the Seawing within a tolerance of 100 mm.