Sarens has loaded out two 80 m-wide cages for Norway Royal Salmon`s Arc­tic offshore farming project.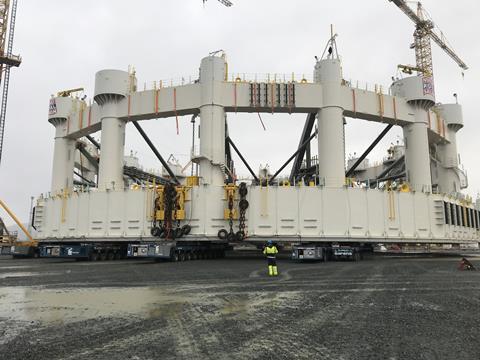 The cages were built in half-rings in Germany and transported to Verdal, Norway. Sarens loaded in the four sections from barges. Each half ring weighed around 1,800 tonnes and was handled using Kamag K24 SPMTs.
Once two half-rings were combined, the completed fish farm had a dry weight of 3,820 tonnes. These were loaded out using 120 axle lines of SPMTs.
First load out was executed during September and the second in October.
According to the Sarens project manager, Tor Arne Nass: "The biggest challenge with load-out was the harsh and cold weather in Norway and also the limited daylight later during the year. But everything was performed as planned and the fish farm cages were successfully installed."