Sarens is deploying its recently added 2,500-tonne capacity LR 12500-1.0 crawler crane in Rostock, Germany, for work on an offshore wind energy project on behalf of Van Oord.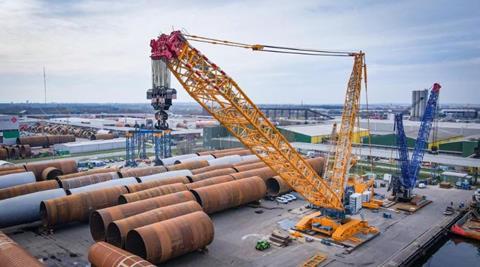 Sarens ordered the very first model of the Liebherr crane last year, as HLPFI reported here.
Sarens managing director, Carl Sarens, said: "The high lifting capacity of the LR 12500-1.0 is the outstanding feature for us. The new crane will enable us to close the gap between our crawler and ringer cranes."
He added: "We are particularly focusing on jobs in renewables for the new 2,500-tonne crane. Handling offshore wind turbines at ports is also becoming an important business segment as the weights of components continue to rise."
Apart from lifting large components for the offshore wind sector, the LR125000 -1.0 is suited for the petrochemical industry and port handling work. The crane, according to Sarens, is easy to transport thus reducing the rigging and transportation cost and time when deployed for global projects.
In honour of long-time employee Hendrik Sanders, the crane will be christened Straffen Hendrik.