Sarens has transported and installed five bridges on the Albert Canal in Antwerp, Belgium.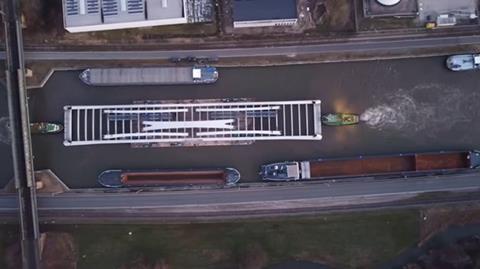 Steel construction company Buyck contracted Sarens to install the five bridges, which measured 128 m in length and weighed 1,100 tonnes each.
The heavy lift specialist deployed barges, Kamag K24 SPMTs and four CS350 jacking systems. Sarens said the planning phase was crucial as the team had to address the low-lying bridges and the width of the locks on the way during the transport.
Peter Keyen, project manager at Sarens, explained: "Due to the outstanding length of the bridge we had to couple the tugs to the bridge instead of coupling them to the barge. A special permission was needed for the maritime transport of the bridge."
Since 2018, Sarens has installed over 30 bridges on the Albert Canal.