Volga-Dnepr Airlines and Bolloré Logistics coordinated the delivery of the Inmarsat-6 F1 communications satellite from Toulouse, France, to Kitakyushu, Japan, onboard one of its AN-124s.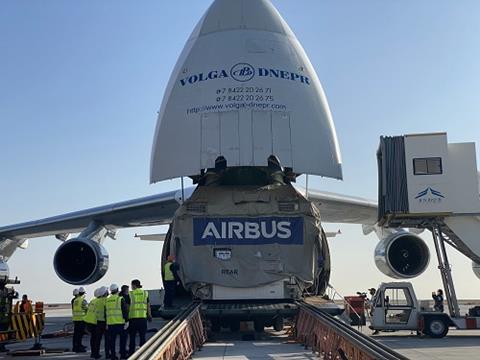 Volga-Dnepr and Bolloré began initial project discussions back in 2019, with operations planning starting during September 2021.
Designed and manufactured by Airbus Defence and Space, the satellite will serve a variety of purposes including decreasing costs for mobile services and internet of things (IoT) applications.
Dmitry Vorontsov, Volga-Dnepr Group director, APAC development, said: "Not only does the completion of I-6 F1 logistics project strengthen our footprint in aerospace sector but it also brings our cooperation with Kitakyushu city government/Fukuoka prefectural government to the next level as we see real actions aimed at enhancement of air cargo infrastructure in the airport to be able to handle such complex shipments.
"This year we have seen a significant increase in the aerospace sector amid the revival of industry projects and the development of regional space programmes. Volga-Dnepr Airlines has so far transported over 3,000 tonnes of aerospace-associated cargo and expects more projects in the pipeline."