DB Schenker has coordinated the delivery of almost 90,000 freight tons of cargo that makes up one of the world's largest rail-mounted vehicles for the BHP South Flank project in the Pilbara region of Western Australia.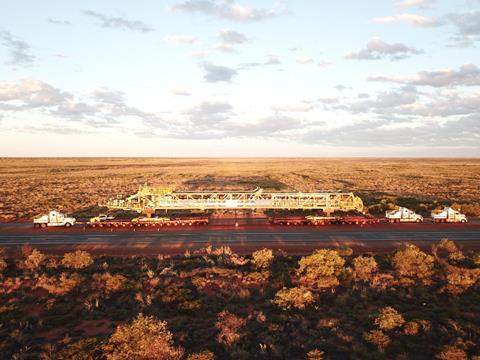 The 200 components will be assembled by engineers from thyssenkrupp Mining Technologies. Once complete, the fully autonomous stackers and reclaimer will be able to transport 20,000 tons (1,8143.7 tonnes) of iron ore per hour.
25 experts from DB Schenker's global projects and industry solutions business unit in Perth planned the shipping and road transport solutions for more than two years.
The parts were transported from the Australian Marine Complex in Henderson, Western Australia, to Port Hedland – a distance of 1,770 km. Three vessels completed the moves, including BigLift Shipping's Happy Dragon, as HLPFI reported here.
Ships from Zeamarine's former fleet, which are now part of United Heavy Lift's (UHL) roster, also completed transport operations.
From Port Hedland, specialised hydraulic heavy transport trailers and trucks moved the cargoes 350 km to the mine site. According to DB Schenker, the largest trailer combination measured 120 m long and had to drive across 27 bridges and five rail crossings.
In the mine, the stackers and reclaimer move on up to 112 wheels. Each machine measures up to 106 m in length, 40 m tall and weighs up to 2,800 tonnes.
DB Schenker is also currently shipping oversized modules for the ore-handling plant and a 23 km-long overland conveyor system. So far, 380,000 freight tons of equipment has been transported on 11 specialised heavy lift vessels to Australia.