Trans Global Projects Group (TGP) has delivered an oversized oil derrick from Constanta, Romania to the Caspian Sea.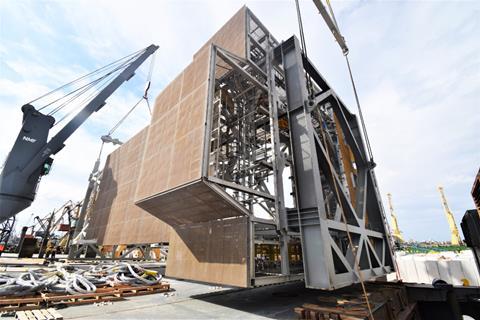 Prior to arriving in Constanta, the derrick was dismantled into three sections and transported via heavy lift vessel. The largest section of the derrick measured almost 13 m high, and the total weight of the cargo was over 270 tonnes.
TGP oversaw the transloading by means of a double banking operation, whereby the cargo was unloaded from the vessel onto a barge.
After loading, the barge then embarked on a 3,000 km journey. TGP said that navigating through Russian inland waterways presented infrastructure obstacles, such as low bridges and high-voltage cables: "The largest section of the derrick was just below the limit of what the waterway could handle."
Planning for this shipment began early May, with the barge departing in early September. Colin Charnock, group ceo, said: "To deliver this very large oil derrick, the TGP team had to work with millimetric precision.
"Planning for this shipment began in early May, and we did not leave any stone unturned when preparing the most efficient, cost-effective transport solution for this oversized cargo."