Jan De Nul Group has completed the installation of all 21 offshore wind turbines for a 109.2 MW project in Taiwan.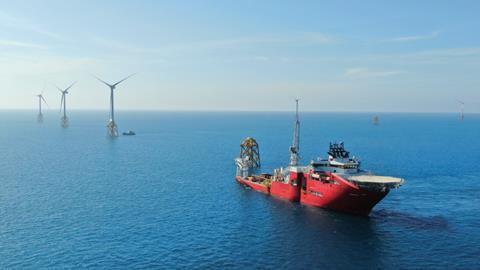 The company installed the turbines, as well as the subsea cables, for Taiwan Power Company's (TPC) phase 1 demonstration project, located 8 km off the west coast of the country near Fangyuan.
Each Hitachi 5.2 MW wind turbine is installed on a jacket foundation with transition piece, anchored to the seabed using four steel pin piles, and equipped with wind turbines with a downwind rotor. Jan De Nul's jack-up installation vessel Taillevent completed the works.
Jan Kop, project director TPC project for Jan De Nul Group, said: "With this major milestone we have now reached the final stretch of the project which has challenged us in many ways, not even imaginable when we started more than three years ago. The Covid-19 restrictions and regulations implemented by authorities in Taiwan and around the globe have affected the project, but we have always continued with great commitment finalizing the installation of the cables, jacket foundations and wind turbines. We thank our on- and offshore teams for the great teamwork."