Global freight forwarder UTC Overseas handled the transportation of mining equipment from the Puerto Angamos port in Chile to an inland mining site, amid Covid-19 disruption and political unrest.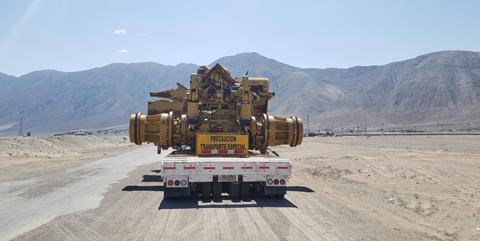 The cargo was shipped from Mongolia before UTC took over the operation with the unloading of the vessel at the port in Chile.
There were roughly 35 trucks staged offsite to transport over 120 loads of cargo. The loads included parts for 13 mining dump trucks, two mining excavators, and fifteen containers of smaller parts, accessories, components, and rims. Unloading took nearly three days and the cargo was transhipped directly onto trailers to avoid incurring storage fees at the port.
UTC said that sequencing of delivery was critically important for this project due to the limited availability of trucks, and the need for the parts to arrive at the assembly site in a timely manner and correct order.
Marco Intemann, UTC branch manager Chile, said: "These pieces had to be shipped to one of two assembly sites, both residing roughly 70-80 km away. Assembly sites were utilised in order to simultaneously work on the assembly of multiple pieces of equipment. Having the equipment pieced together off site rather than at the mine is more efficient since fewer restrictions are in place than at the mine site. In addition to the assembly site, loads were delivered directly to the mine which was 300 kilometers away from the port."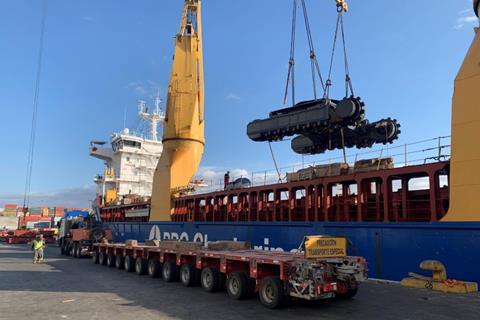 Three modular trailers were used to move the heaviest components: a 16-line module to haul an excavator superstructure that weighed 136 tonnes (150 tons); a 12-line module for the excavator's body, which weighed 127 tonnes (140 tons); and an eight-line module to haul an excavator's upper carriage that weighed 74 tonnes (82 tons).
Due to Covid-19, the mine receiving the equipment was operating with half its staff, and drivers were required to complete an affidavit confirming they had no symptoms of the virus.
UTC said there were also concerns about the safety over road transportation in the region due to ongoing protests over economic pressures. In order to avoid any costly delays, UTC Chile held emergency meetings with the client and put in place risk management strategies to mitigate potential problems in order to assure them of the safety of the truckloads.
Despite these challenges, the move was completed within time and budget constraints.