AAL Pusan has called at Van der Vlist's terminal in Moerdijk, the Netherlands.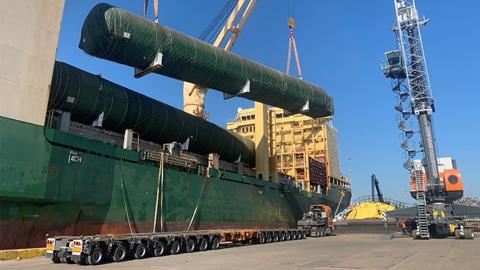 Measuring 195 m long, the vessel is the biggest ship to call at the company's facilities.
At the terminal, the ship unloaded a vacuum storage tank that weighed 145 tons (131.5 tonnes) and measured 38 m long. The equipment was offloaded directly onto an 18-axle modular trailer from Van der Vlist's trucking department.
The tank will be put in intermediate storage before being delivered to a project site in the Moerdijk industrial area, where an oxygen plant is being constructed.
Van der Vlist said that another vessel with cargoes that weigh up to 550 tons (499 tonnes) will follow in August.