In partnership with Fracht, Volga-Dnepr Airlines has delivered an 83-tonne boiler from Milan in Italy to Lincoln, Nebraska, USA.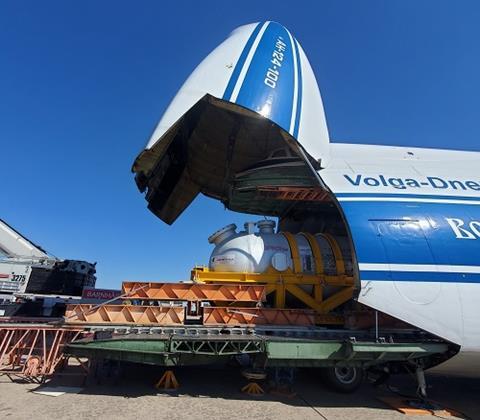 Volga-Dnepr said almost two months of planning went into the transport, with active involvement from both European and US teams of both companies. The boiler will be used to ramp up the local production capacity of the plant in Sioux City, Iowa.
A 9-tonne cradle was designed and produced by the shipper and delivered to Malpensa Airport in Italy for effective loading procedures. The whole flight lasted two days and consisted of five legs with technical stops in Liège (Belgium), Keflavik (Iceland), Gander (Canada) and Bangor (USA). The latter being included for smooth international Customs procedures.
After landing at Nebraska, the equipment was trucked to its final destination in Iowa to be assembled on the plant.
Ekaterina Andreeva, commercial director of Volga-Dnepr, said: ""This has been one of the most memorable projects for our team in years – challenging loading, complex routing, production of a dedicated cradle, provision of special equipment from Volga-Dnepr's equipment store – these are all the pillars of the outsized and super-heavy charter operations we are most experienced in."