Wiesbauer has used its recently acquired Tadano AC 7.450-1 at the port of Heilbronn in Germany.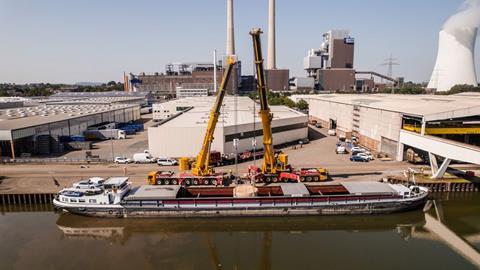 The crane was accompanied by an AC 500-2 for a tandem operation. "Our job was to lift a 125-tonne MRI magnet for a cancer research institute from a lowbed trailer to a height of about 1 m, swing it through between both cranes, and then set it down in an inland cargo vessel's cargo hold," explained Jannik Weigle, who operated the AC 7.450-1 in Heilbronn.
For the tandem lift at a radius of 10.4 m, the cranes were equipped with 100 tonnes of counterweight each. In addition, the AC 7.450-1 was set up with a counterweight adapter frame, which expanded the slewing radius by a total of 40 cm.
The load's gross weight of 125 tonnes was split in the middle between the two cranes.