COSCO Shipping Specialized Carriers has handled cargoes for two wind energy projects on behalf of PowerChina Chengdu Engineering Corporation.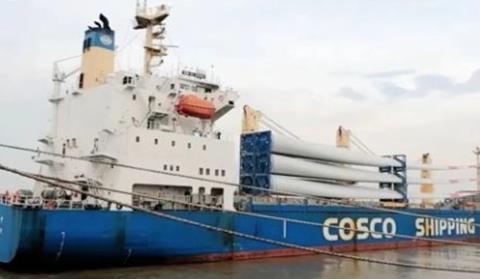 On June 27, the first shipment of materials for PowerChina's Coba wind power project in Bangladesh departed the port of Taicang. COSCO Shipping Specialized Carriers provided door-to-door logistics services, from factory pick-up to construction site delivery for the project.
A separate shipment of cargoes for PowerChina's Ivovik wind power project in Bosnia and Herzegovina was delivered on June 24. According to the carrier, it is a landmark project under China's Belt and Road Initiative in Central and Eastern Europe.
The supply chain engineering logistics business division of COSCO Shipping Logistics, meanwhile, has won the tender for an offshore wind energy project in Ca Mau, Vietnam. It will provide overseas intermodal logistics services throughout the project.
Located in the southeast of Vietnam's Ca Mau Province, the offshore wind farm is designed to be equipped with 75 offshore wind turbines. With an installed capacity of 350 MW, COSCO Shipping Logistics said it is the largest offshore wind power project in Vietnam in recent years.