Wallenius Wilhelmsen Ocean (WW Ocean) has shipped a high-pressure steam drum from the port of Masan in South Korea to Baltimore, USA, for a power plant project.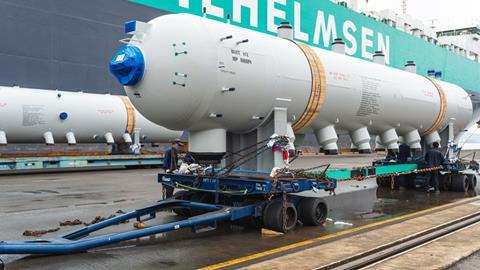 The 147-tonne steam drum required special inland transportation from the factory to the port. It was then shipped onboard a WW Ocean ro-ro vessel, where it was stored underdeck.
The project team used AutoCAD software to determine the optimal handling equipment for the drums: a purpose-built equipment solution called Samson-Light that gently rolls the drums on and off the vessel.
The solution involved using multipurpose bogies connected together with a push bar. WW Ocean said that this was an ideal solution for the high-pressure steam drums – which only have two separate supports and a heavy footprint – as it enabled weight to be distributed evenly.
"The delivery schedule of project cargo like these steam drums is important as it's connected to onsite construction timelines," said Kyuil Chun, WW Ocean breakbulk sales representative.
He added: "We closely monitor the itineraries of our vessels to keep customers and their suppliers up to date and meet tight deadlines."