Conveyor Logistics and FLS Projects – members of the XLProjects (XLP) network – have completed project moves in Bangladesh and Indonesia, respectively.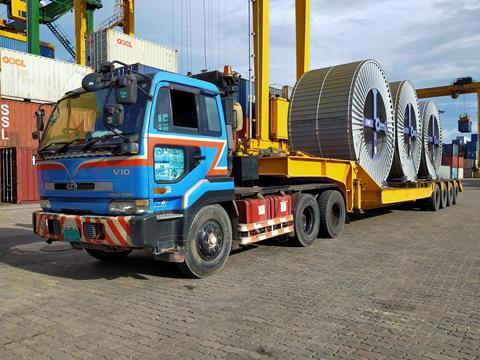 On behalf of Dhaka Power Distribution Company, Conveyor Logistics coordinated the transport of 62 cable drums, with a total volume of 1,636.2 cu m, for a substation project.
Conveyor oversaw the loading of components at the port of Busan in South Korea and the unloading at Chattogram port in Bangladesh. Conveyor used a 30-tonne capacity crane to lift the drums and position them on a lowbed 11-axle trailer, which then transported the cargo 248 km to the city of Demra in Bangladesh.
Meanwhile, FLS Projects shipped 109 packages of heat exchanger components from South Korea to Indonesia. The shipment totalled 1,500 freight tons.