In cooperation with Antonov Airlines and Kita Logistics, international freight forwarder Rolf Riedl played an important part in the transport of a power supply skid from Turkey to Germany – the largest single piece of cargo transported by the Germany-headquartered company in 2022.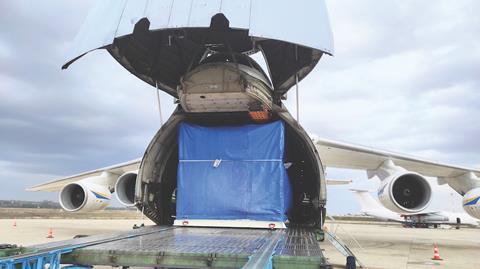 Siemens Energy built an E-house – a prefabricated substation used as a power distribution centre – destined for a floating LNG terminal at the Elbe port of Brunsbüttel. The oversized container measured 19 m long, 4.24 m wide and 4.01 m high.
The LNG terminal, which is scheduled to go into operation this year, is a high-priority project that will help contribute to independent and low-emission energy supply to Germany.
According to Volodymyr Goncharov, commercial executive at Antonov Airlines, the cargo delivery was utmost urgency due to the significance of the project.
He added that the transport of the equipment required specialised handling and expertise, which is why Antonov Airlines was chosen for the task.
Within just four hours, Rolf Riedl prepared transport of the oversized unit for pre-carriage, airport handling in Turkey and Germany, and oncarriage to the site in Brunsbüttel.
Challenging transportation

Rolf Riedl successfully performed the challenging transportation of the container from its factory premises in Turkey to Tekirdag Airport, where the cargo was loaded onto an AN-124-100-150 aircraft and flown to Germany's Hamburg Airport. From there, the cargo was transported overland to its final destination.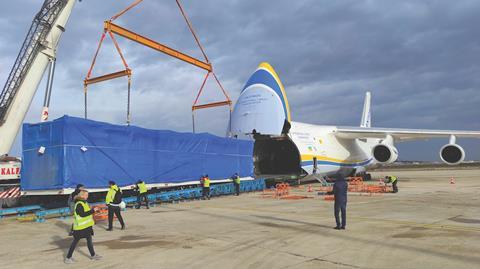 "The major task was the precise installation of low-profiled ramp equipment employed especially for this mission," explained Andrii Nazarenko, flight manager for Ukraine's Antonov Airlines. "Thanks to a professional approach, the Antonov team ensured safe loading and unloading at airports under the supervision of a Siemens Energy representative."
Iris Müllejans, managing partner and director at Rolf Riedl, commented: "We thank our customer for their trust to perform this challenging project without incident and in-time, as well as our partners. For us it goes without saying that this important project was accompanied personally."

Headquartered in Hagen, Germany, international freight forwarder Rolf Riedl specialises in heavy haulage and oversized cargo transportation worldwide, including the shipment of smaller accessories, by sea, air and road. Founded in 1987 and operating as a family-owned business for over 35 years, the Riedl Group boasts two rigging companies complementing its logistics services. Its owned assets include specialised lifting and transport equipment, such as strand jacks, skidding systems, a hydraulic gantry and self-propelled trailer. Rolf Riedl is also a founding member of the international association of specialised heavy transport companies, The Heavy Lift Group (THLG).