Sarens has been on-site since June 2019 to help the client build the Mohembo Bridge in Botswana.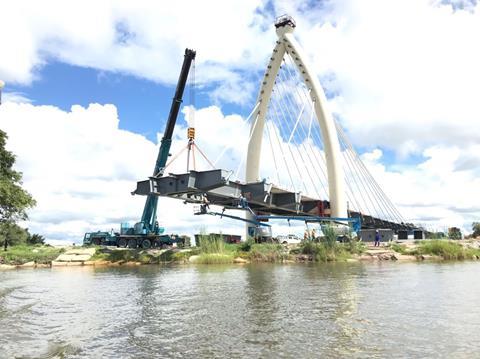 The Mohembo bridge over the Okavango River in Botswana is a project by the Roads Department Ministry of Transport & Communications, Botswana. The 4,400-tonne bridge is a steel deck comprising of two double T main beams (2 m high) and a centrally located high spine beam. The cable stayed bridge is supported by 72 cables anchored to the two 54 m high main pylons and made of truncated cone sections of steel of variable diameter and thickness that resemble the shape of elephant tusks.
Sarens was commissioned to supply cranes, SPMTs, and ancillary equipment for the project. Being located in a remote location the team had to pre-plan the movement of the crew and the equipment. The following equipment were deployed for the project:
50, 100, 200, 220, 300, 250, and 400T cranes
12 axle-lines SPMTs
4 x boomlifts
2 x scissor lifts
2 x telehandlers
The equipment was mobilised from Sarens division in South Africa in 3 weeks. Sarens' scope included lifting of bridge sections and steel decks. Some of the bridge sections had to be lifted in tandem with three cranes working in complete synchronisation.
According to the Group Rental Sales Support Manager, Tim Biesemans, said: "The remote location of the site was a challenge and was addressed by hiring local crew members who have been associated with Sarens on other projects with an experienced site manager from Sarens. This way we were able to reduce our transportation time due to the pandemic and also support local workers."