Sarens deployed its 1,250-tonne capacity crawler lattice boom crane and lifting tackles to lift two blast furnaces and one 512-tonne tower module for Tata Steel Limited.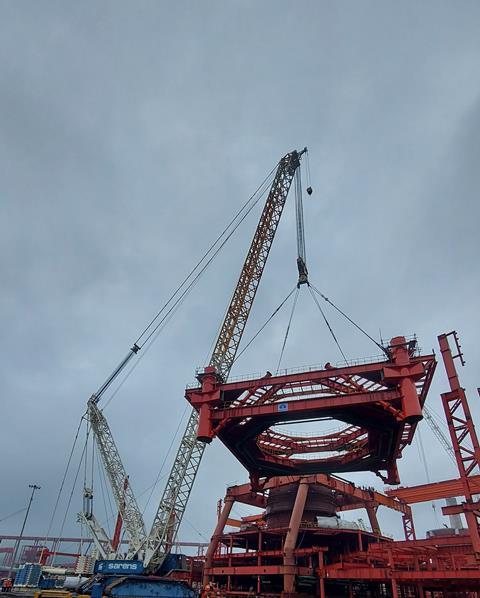 Working on the biggest and boldest projects in the world is Saren's strength – which is why we were proud to help Tata Steel Limited construct the largest blast furnace in India.
As part of this operation, Sarens deployed our 1.250MT-capacity crawler lattice boom crane and lifting tackles to lift two blast furnaces and one 512MT tower module. Sarens also provided heavy lift planning and supervision throughout the operation. To date, this has been the heaviest single lift ever performed at the Tata Steel plant, which is currently under construction in Kalinganagar, Odisha, an eastern Indian state on the Bay of Bengal.
The powerful Demag CC8800 crawler crane lifted the heaviest component, a 512MT tower module, at a working radius of 32 metres while maintaining a minimum 29-metre elevation. To execute the lift successfully, Sarens marked the module and shell assembly area near the crane and carefully planned for the sequence of lifts, rigging the crane in SSL configuration with a 102-metre main lattice boom.
The crawler crane travelled approximately 2.000 kilometres to the worksite, with a total of 98 trailers undertaking a journey that spanned thirty days. Once at the work site, the crane was ready within 15 days and has remained there for the past 36 months. Six crew members were responsible for the success of the on-site lifting operation , says Samrat Bhatnagar , Sarens Depot Head.
"Sarens brings its global expertise and localised solutions to serve the steel sector in India," says Arun Savanur, Sarens Regional Director - South Asia. "I would like to congratulate everyone involved in the successful delivery of the crane and ongoing heavy lifts. I would also like to thank the client for their collaboration. We are looking forward to some interesting and challenging heavy lift projects in South Asia in the near future."
Sarens also won the best business partner award for supporting innovation during the construction phase of the blast furnace project at Tata Steel's Vendor's Conclave 2022.

Sarens' mission is to be the reference point in crane rental services, heavy lifting, and engineered transport. With state of the art equipment and value engineering, the company offers creative and intelligent solutions to today's heavy lifting and engineered transport challenges. With more than 100 entities in 65 countries operating without borders, Sarens handles small-scale to mega-scale projects. It currently employs 4,452 professionals. Safety and excellence are key drivers for Sarens and the company strives daily to establish a safe space for everyone and everything related to its operations. Sarens has been the market leader for over 60 years; over four Sarens family generations are intimately involved in the business. Sarens continues to build the future on the foundations of its rich past and ensures that its clients will always stay ahead of the game when it comes to heavy lifting and engineered transport innovation.