Sarens lifts 220-tonne module at combined cycle power plant in Khenchela.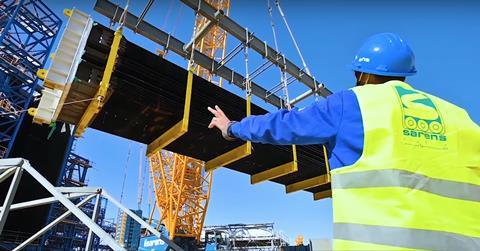 Sarens has completed the installation of a 220-tonne boiler module at a 1266MW combined cycle power plant in Khenchela, Algeria. The operation, completed on behalf of client Etterkib, involved the following equipment:
• Demag CC2800-1
• Demag CC2400-1
• Demag AC259

The equipment was selected to handle the significant weight of the 220-tonne, 37-metre long module, and to accommodate the need for rotating movements and verticalisation. The CC2800-1 crane was transported to the work site directly from another project, and it took a total of three days to set up the equipment.
At the project's peak, Sarens crew included a project engineer, lifting supervisor, three crane operators, a crane assembler, and riggers. Sarens would like to thank them for their contributions to this important operation!

Sarens' mission is to be the reference point in crane rental services, heavy lifting, and engineered transport. With state of the art equipment and value engineering, the company offers creative and intelligent solutions to today's heavy lifting and engineered transport challenges. With more than 100 entities in 65 countries operating without borders, Sarens handles small-scale to mega-scale projects. It currently employs 4,452 professionals. Safety and excellence are key drivers for Sarens and the company strives daily to establish a safe space for everyone and everything related to its operations. Sarens has been the market leader for over 60 years; over four Sarens family generations are intimately involved in the business. Sarens continues to build the future on the foundations of its rich past and ensures that its clients will always stay ahead of the game when it comes to heavy lifting and engineered transport innovation.
View full Profile