Sarens jacks and skids a 6,000-tonne forward ship block at the Tuas Shipyard in Singapore.
Keppel Shipyard Limited called on Sarens to move its 6,000-tonne forward ship block at the Tuas Shipyard in Singapore.
With heavy rain, tight project schedule, and Covid-19 regulations, Sarens had to plan and execute the jacking and skidding of the forward ship block – 77 m long, 28 m wide, 6,006-tonne weight. The forward ship block had to be skidded forward by 55 m and another mid ship block had to be moved by 10 m.
Our team of nine used the following equipment for the project:
20 x 600T Skid Shoes with 2 Power Pack
40 x Push & Pull Cylinder
40 Sets of Alignment Block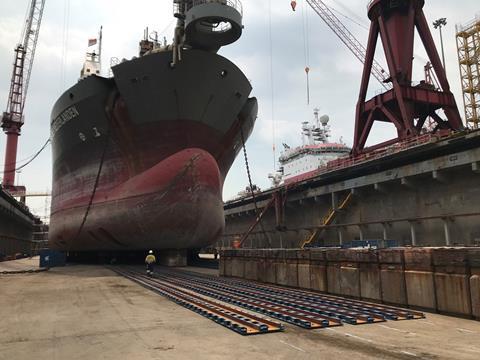 The equipment was transported to the site from Malaysia in 20 trailers and was set-up in 10 days. The Operations Manager, Sarens, Tim Van Hoeydonck says, "The jacking and skidding operation was safely completed ahead of schedule with meticulous planning and execution." The Project Coordinator, Jimmy Thew adds, "It was a challenging project with tight deadlines and we were able to complete it successfully because of the excellence and dedication of our team."

Sarens' mission is to be the reference point in crane rental services, heavy lifting, and engineered transport. With state of the art equipment and value engineering, the company offers creative and intelligent solutions to today's heavy lifting and engineered transport challenges. With more than 100 entities in 65 countries operating without borders, Sarens handles small-scale to mega-scale projects. It currently employs 4,452 professionals. Safety and excellence are key drivers for Sarens and the company strives daily to establish a safe space for everyone and everything related to its operations. Sarens has been the market leader for over 60 years; over four Sarens family generations are intimately involved in the business. Sarens continues to build the future on the foundations of its rich past and ensures that its clients will always stay ahead of the game when it comes to heavy lifting and engineered transport innovation.