Sarens has lifted modules at a power plant in Tema, Ghana, despite facing challenges arising from Covid-19.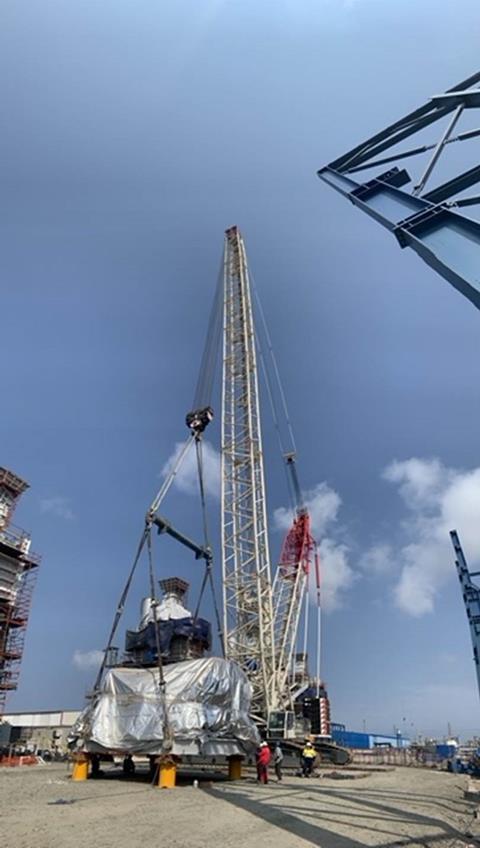 In the spring of 2020, Sarens was preparing equipment and personnel for an important lifting operation at a power plant in Tema, Ghana. At the same time, the Covid-19 pandemic had begun to engulf the world, shutting off transport between countries and leaving equipment and personnel stranded. Thanks to extreme perseverance, creativity, and close collaboration with the client, Sarens was ultimately able to pull off the lift despite a succession of setbacks.
The project began like any other: Sarens had been contracted to lift power plant modules for client Metka and project owner Early Power Limited. This particular project required a tight turnaround, with just under four months available to finalise commercial discussions, contract negotiation, engineering, shipping, and on-site assembly. Unfortunately, the ensuing Covid-19 pandemic made everything infinitely more challenging.
The first challenge was the equipment stranded at port. Sarens had sent a 500-tonne capacity crawler crane to the project site, but the Covid-19 crisis and lockdown measures began while the crane was still on the ship. Although it arrived at the port in Tema on time, Sarens could not send personnel to the site due to the Covid-19 restrictions which were by then being imposed on a global scale. Fortunately, Sarens was able to cooperate with the client to mobilise the crane from the port to the site without the presence of Sarens personnel.
The second challenge was getting Sarens personnel to the site, including crane operators and a supervisor stranded in Belgium when they needed to be in Ghana. Sarens and Metka joined forces, securing a private jet and the necessary authorisations that would allow them to fly from Brussels to Accra.
While the crane had arrived at the port near the end of March, it wasn't until the first week of June that Sarens personnel landed in Ghana. However, operations still couldn't commence for another two weeks, because everyone had to be quarantined at a local hotel, under army protection.
By June 22, work could finally begin. It took just over a week to assemble the crane, and the project commenced on July 1. The crane was configured in SSL configuration with a 72 m main boom, and began installing modules weighing up to 161 tonnes and measuring up to 18,5 m high.
Over the course of the project, Sarens performed five repeat installations of a 23-tonne module undercasing, a 161-tonne module casing box, a 20-tonne outlet duct box, and an 18-tonne stack. In the final stage, Sarens also lifted a 175-tonne steam turbine, 36,7-tonne steam turbine gearbox, and 90-tonne generator.
Unfortunately, this was not the last time Covid-19 would impact the project's progress. Despite careful precautions, one Sarens crewmember was affected by Covid-19 and was brought back home via a private flight at the end of July. The remaining crewmember was able to complete the project successfully, cooperating closely with the client to do so.
Sarens would like to give a heartfelt thank you to everyone who worked tirelessly to make this project a success despite the difficult and constantly-changing global circumstances throughout. It was certainly a challenge that tested everyone's resilience, creativity, and ability to come up with new solutions in the face of constant challenges.

Sarens' mission is to be the reference point in crane rental services, heavy lifting, and engineered transport. With state of the art equipment and value engineering, the company offers creative and intelligent solutions to today's heavy lifting and engineered transport challenges. With more than 100 entities in 65 countries operating without borders, Sarens handles small-scale to mega-scale projects. It currently employs 4,452 professionals. Safety and excellence are key drivers for Sarens and the company strives daily to establish a safe space for everyone and everything related to its operations. Sarens has been the market leader for over 60 years; over four Sarens family generations are intimately involved in the business. Sarens continues to build the future on the foundations of its rich past and ensures that its clients will always stay ahead of the game when it comes to heavy lifting and engineered transport innovation.
View full Profile