Sarens has carried out the load-out operation of two 8000-tonne furnace modules, which it says are the biggest and the heaviest cracking furnace modules based on modularisation design and construction in the world in China.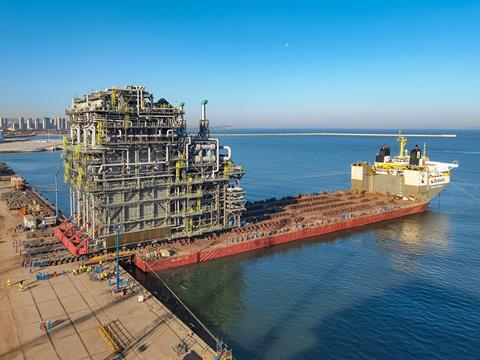 Sarens SPMTs and half-split SPMTs manoeuvred the world's biggest and heaviest cracking furnace modules based on modularisation design and construction in the world at the Penglai Jutal Offshore Engineering Heavy Industries Co., Ltd. – PJOE Yard in Penglai, China.
The two furnace modules had to be transported and loaded-out at the PJOE Yard. Each furnace module weighed 8000 tonnes and measured 57.9 m x 42.5 m x 49 m. The weight of the cargo was a challenge and the equipment and project planning had to address the center of gravity of the modules.
Analysing the critical aspects of the modules the team decided to deploy for the first time the half-split SPMTs along with the regular SPMTs. The team used:
276 axle-lines
48 axle-lines type half-split
12 Power Pack Units (PPU's)
Additional spare 6 axle-line along with one PPU
The equipment was mobilised to the site in three days using 60 trucks and assembled in four days in a limited space and tight time schedule.
Sarens Project Engineer, Yang Guangjuan says, "Finally we successfully completed the load-outs of the most critical furnace modules in this project. The team worked efficiently in planning, engineering, equipment preparation, and operation."

Sarens' mission is to be the reference point in crane rental services, heavy lifting, and engineered transport. With state of the art equipment and value engineering, the company offers creative and intelligent solutions to today's heavy lifting and engineered transport challenges. With more than 100 entities in 65 countries operating without borders, Sarens handles small-scale to mega-scale projects. It currently employs 4,452 professionals. Safety and excellence are key drivers for Sarens and the company strives daily to establish a safe space for everyone and everything related to its operations. Sarens has been the market leader for over 60 years; over four Sarens family generations are intimately involved in the business. Sarens continues to build the future on the foundations of its rich past and ensures that its clients will always stay ahead of the game when it comes to heavy lifting and engineered transport innovation.