Sarens in the UK, based in London, Middlesbrough, Stanlow, Fawley and Mossmorran is celebrating after landing an internationally-recognised award for demonstrating high health and safety standards.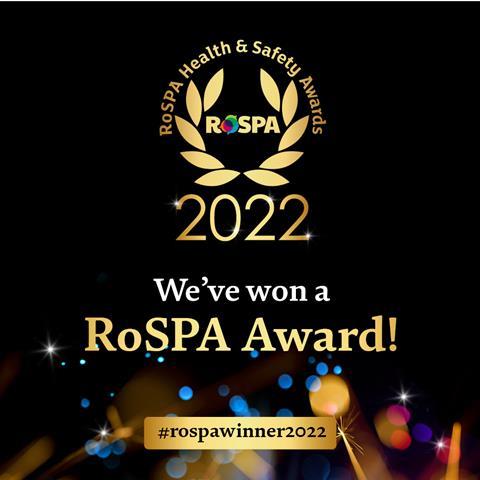 Sarens has received a RoSPA Gold Health and Safety Award for working hard to ensure our staff and clients get home safely to their families at the end of every working day.
Organisations receiving a RoSPA Award are recognised as being world-leaders in health and safety practice. Every year, nearly 2.000 entrants vie to achieve the highest possible accolade in what is the UK's longest-running H&S industry awards.
Andrew Lees, Group SHEQ Director said: "For a second consecutive year, we are proud to receive this very prestigious award. We share it with our clients and staff and look forward to continuing our tradition of staying safe in the UK thanks to Andrew Winter, Sarens Country Manager in the UK and his dedicated team"
Julia Small, RoSPA's Achievements Director, said: "This is a fantastic and well-deserved accomplishment. All our award entrants demonstrate their unwavering commitment and passion for keeping people safe at work. By receiving this recognition Sarens joins like-minded businesses and organisations worldwide, who represent the very best in their approach to Health and Safety. I would like to add my personal thanks for all the work that it has taken to secure this well-deserved award – congratulations to all those involved, who champion and drive up Health and Safety standards every day. You are a fantastic example to others in your sector."
For more information about the RoSPA Awards visit www.rospa.com/awards

Sarens' mission is to be the reference point in crane rental services, heavy lifting, and engineered transport. With state of the art equipment and value engineering, the company offers creative and intelligent solutions to today's heavy lifting and engineered transport challenges. With more than 100 entities in 65 countries operating without borders, Sarens handles small-scale to mega-scale projects. It currently employs 4,452 professionals. Safety and excellence are key drivers for Sarens and the company strives daily to establish a safe space for everyone and everything related to its operations. Sarens has been the market leader for over 60 years; over four Sarens family generations are intimately involved in the business. Sarens continues to build the future on the foundations of its rich past and ensures that its clients will always stay ahead of the game when it comes to heavy lifting and engineered transport innovation.