Sarens lifts and installs several steel beams for Al Hadarat Bridge project in Cairo, Egypt.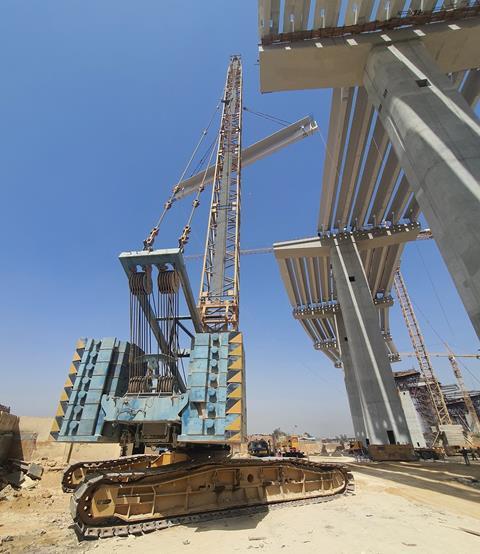 Sarens is proud to have helped construct what will be one of the highest bridges in Africa, the Al Hadarat Bridge in Cairo. Over the course of several weeks, Sarens completed two triumphant lifting operations on behalf of Arab Contractors, bringing the bridge project closer to its debut.
Sarens first lifted and installed eleven 150-tonne, 41-metre steel beams. For this, the crew used a CC4800 crane in SSL configuration and 66-metre main boom, as well as 270T SL CW. After taking each beam from its initial location, they would slew the crane into position. The four-member crew successfully performed eleven picks over the course of one week.
The equipment for these lifts was carefully chosen for its capacity, and performed smoothly during the operation. The CC4800 was delivered to the site after completing work on another project. Rigging took five days, and the crew had to carefully work within extremely tight spaces, with only a 10cm clearance at some points!
For the next series of lifts, Sarens brought in the CC2600H with a 78-metre main boom for another tight and high execution. The four-person crew then installed the 63 beams, each of which weighed 90 tonnes and measured 50 metres long. After taking each beam from the trailer, the team slewed into position, performing 63 such picks within three weeks.
The crane was once again chosen for its capacity, and its positioning was the most important part of the planning phase, as a series of very tight lifts were required. The crane was brought in from another completed operation, and rigging took three days. The crane's location was again very tight, with a mere 15cm clearance from its surroundings.
Working closely with the client, project manager Mohamed Abd El Nasser and country manager Essam Adel ensured that every detail was accounted for, from the number of lifts required to exact lifting locations during installation.
Despite some high winds, the team successfully completed the lifts required for this iconic project. The world has its eyes on the new Al Hadarat Bridge project, and Sarens is proud to have played our part in making it a reality!

Sarens' mission is to be the reference point in crane rental services, heavy lifting, and engineered transport. With state of the art equipment and value engineering, the company offers creative and intelligent solutions to today's heavy lifting and engineered transport challenges. With more than 100 entities in 65 countries operating without borders, Sarens handles small-scale to mega-scale projects. It currently employs 4,452 professionals. Safety and excellence are key drivers for Sarens and the company strives daily to establish a safe space for everyone and everything related to its operations. Sarens has been the market leader for over 60 years; over four Sarens family generations are intimately involved in the business. Sarens continues to build the future on the foundations of its rich past and ensures that its clients will always stay ahead of the game when it comes to heavy lifting and engineered transport innovation.
View full Profile