Suzanne Lenglen court gets an upgrade for the 2024 Olympic Games.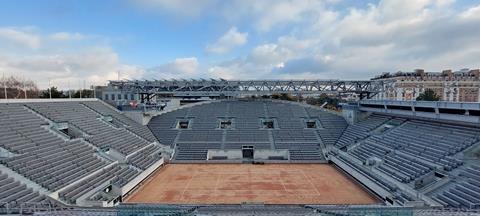 The famous Roland Garros stadium is home to the French Open and has hosted spectacular matches and legendary tennis players over the years. As France prepares for the upcoming 2024 Olympics, the Suzanne Lenglen court is being fitted with a modern retractable roof inspired by the pleated skirt Jean Patou designed for 1920s tennis star, and the court's namesake, Suzanne Lenglen.
Sarens is proud to be part of this fantastic modern upgrade to an iconic court, and was on site from September 2022 through February 2023 to skid two major roof sections in place on behalf of customer Renaudat Centre Constructions.
As part of this operation, the six-person Sarens team skidded two 480T roof sections 28 metres over the tennis stadium, jacking them down on their final supports. The support towers could only stand at particular places around the tennis court, so the crew had to provide four modular beams with a total length of 36 metres each.
One of the most pivotal challenges presented by the project was that one roof section had to be built higher than the other due to the presence of an existing building. Because of this, Sarens' jacking towers on top of the beams had to be 3,25m high–a challenge for the stability of the entire structure.
In total, the equipment Sarens deployed for this successful operation included:
4 support towers
4 modular beams
4 skidding systems on top of the beams
8 CS250 jacking systems on top of the beams
All of the equipment was mobilised via 28 trucks from Sarens headquarters in Wolvertem. It took two weeks to set up all the towers and beams, and another two weeks of skidding and jacking operations once the roof sections had been built by the client.
We invite you to watch a video of this spectacular feat of engineering and celebrate the new face of an iconic court with us as we look forward to the 2024 Olympic Games:

Sarens' mission is to be the reference point in crane rental services, heavy lifting, and engineered transport. With state of the art equipment and value engineering, the company offers creative and intelligent solutions to today's heavy lifting and engineered transport challenges. With more than 100 entities in 65 countries operating without borders, Sarens handles small-scale to mega-scale projects. It currently employs 4,452 professionals. Safety and excellence are key drivers for Sarens and the company strives daily to establish a safe space for everyone and everything related to its operations. Sarens has been the market leader for over 60 years; over four Sarens family generations are intimately involved in the business. Sarens continues to build the future on the foundations of its rich past and ensures that its clients will always stay ahead of the game when it comes to heavy lifting and engineered transport innovation.