Demolition contractor and port services provider Able has received the 17,000-tonne Brent Alpha platform in preparation for dismantling and recycling.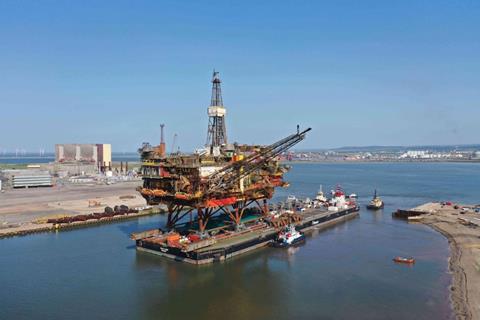 Brent Alpha will be the third platform from the Shell Brent oilfield in the Shetland Islands to be decommissioned at the Able Seaton port in the UK. As with previous platforms, Brent Delta and Brent Bravo, Allseas' heavy lift vessel Pioneering Spirit delivered the platform to the port. Boluda Towage Europe deployed four tugs to assist with the transport.
For the final stage, the platform was transferred onto the Allseas cargo barge, The Iron Lady, for the tow into the Seaton channel and load in at the port. Tugboats were once again supplied by Boluda to assist with the transport along the River Tees.
Peter Stephenson, founder and executive chairman of Able UK, said: "We are uniquely placed to be engaged in the end of life process for ports of the oil and gas sector."
He added that, whilst aiming to remain a key player in the decommissioning industry, Able is also becoming increasingly involved in renewable energies. "Able Seaton Port will be providing the installation base for the 90 Mitsubishi Vestas turbines that will comprise Innogy's Triton Knoll offshore wind farm."