Allseas Global Logistics has further boosted its China Xpress service with the addition of a long-term time chartered 2,000 teu vessel.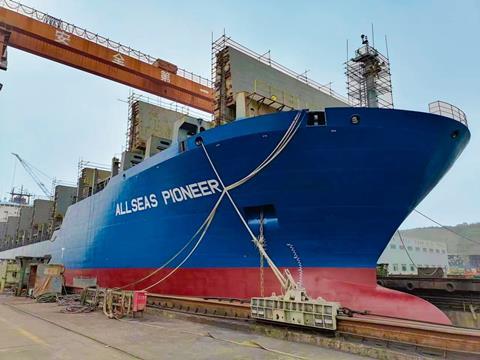 The vessel has been named Allseas Pioneer, building upon the China Xpress initiative that saw Allseas Global expand from forwarder to carrier in order to support customer's sea freight availability challenges.
The service was first launched last year with contracts with multipurpose vessels ranging in capacity from 620-1,600 teu to connecting Shanghai and Ningbo in China with Liverpool in the UK.
"Working alongside Peel Ports we opened up a brand new shipping lane which would link the Far East to Liverpool port. The very first route of its kind with direct services from Ningbo and Shanghai into Liverpool, opening up opportunities for business across northern England and creating a necessary shift from the UK's historical reliance on its southern ports," said Allseas Global.
The first of the sailings began in April 2021 with dship's Ronnie and was shortly followed by BBC Russia and BBC Volga. Continued demand led Allseas Global to launch a longer-term commitment with more vessel charters, additional ports and almost weekly sailings.
The company then added a transpacific extension, with sailings from Shenzhen and Shanghai to Tacoma, Everett and Vancouver in the Pacific Northwest, along with Savannah and Jacksonville on the East Coast.
Allseas Global said that for 2022, further expansion is on the cards, with a series of long-term vessel charters.