On November 2, Wallenius SOL's ice- rated con-ro vessel Baltic Enabler was officially named at the PSA Zeebrugge Terminal in Belgium.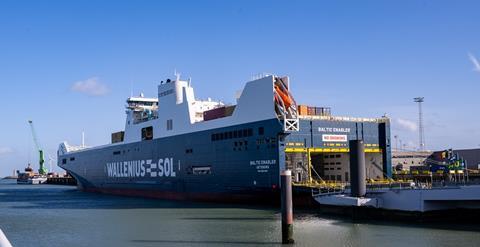 In its white and blue striped livery, the Swedish-flagged Baltic Enabler was named in a short ceremony by its godmother, Anette Johansson, in the presence of customers, investors, port operators, managers and the Wallenius SOL team.
The Ice-class 1A con-ro vessel will join sistership Botnia Enabler on a Zeebrugge-Antwerp-Kokkola-Oulu-Kemi-Skellefteå-Travemünde rotation.
CIMC Raffles began work on the ship at Yantai, China, during 2019 – construction having been delayed by the Covid-19 pandemic. This winter it faces its first operational test: breaking through Baltic Sea ice measuring up to 1 m thick.
The 59,821 gross tonne vessel measures 242 m long with a 35.2 m beam, making it one of the largest con-ro vessels on the seas. It has a 6,442 lane metre capacity and is capable of transporting 960 teu. Equipped with three independent stern ramps, it can load rolling cargo such as trailers, as well as high and heavy loads, wood pulp, paper and chemicals.
The sisterships are a major step forward in Wallenius SOL's decarbonisation strategy. The ships are powered by two 10,500 kW multi-fuel engines that can run on LNG, liquefied biogas, diesel and synthetic fuels, and are capable of achieving 20 knots at full tilt.
Compared with older, similar-sized vessels in the fleet, they emit 63 percent less greenhouse gas emissions. Nitrogen oxide (NOx) emissions have been cut by 96 percent, while sulphur oxide (SOx) and particulate matter (PM2.5) emissions have been slashed by 99 percent. The ships, with some modifications, will be able to run 100 percent fossil-fuel free in the future.
"The owners made the decision to pursue a path towards sustainable shipping by investing in a new generation of eco-friendly vessels. By putting the environment at the top of the corporate agenda, Wallenius SOL has taken industry leadership in response to climate change," said Anders Thyberg, board member, Wallenius SOL.
Wallenius SOL also placed seafarer welfare at the centre of the vessel design. Spacious cabins, a large mess room, mini-cinema and a sauna were some of the features included on board. En route to Zeebrugge, the ship's interior was decorated with paintings, plants and ornaments to give it a family-run feel.
"It makes me very happy to see how much has been invested in the well-being of the crew," said Anette Johansson.
Wallenius Marine, in collaboration with Knud E Hansen, led the ship design and construction of both ships. Wallenius Marine will provide ship management and technical management on the new vessels.
Wallenius is also working on a concept to deploy wind propulsion technology on the vessels in its fleet, including retrofitting telescopic sails.
For this project, Wallenius Lines has officially partnered with Swedish pop band ABBA to promote its sustainable logistics solutions. The first full-scale sail vessel prototype is expected to sail in 2024.