Three 40,000 dwt handysize bulk carriers have joined the BBC Chartering fleet in recent months.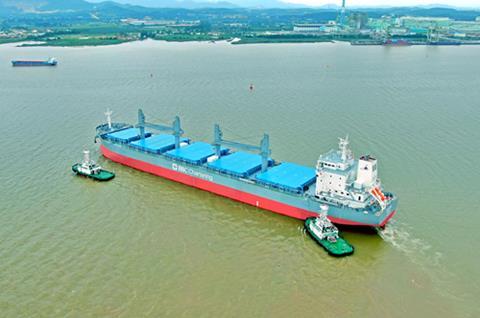 The vessels were built at Jiangmen Nanyang Ship Engineering (JNS) in China. German owner Briese took delivery of BBC Mars and BBC Uranus in July and May, respectively. BBC Saturn was handed over to Japan-based owner Nisshin on June 1.
The handysize ships have a draught of 10.8 m, a cubic capacity of 50,317 cu m, and four cranes capable of lifting up to 30.5 tonnes. All of these ships have been chartered on a long-term basis.
BBC Chartering said that three to four bulkers more may follow and, if opportunities arise, possibly even more. The carrier added that with these vessels, it can respond flexibly to cargoes on offer and to the needs of its customers.
"Bulk is also being carried on our other ships on a regular basis and it is worth mentioning that we have already been chartering bulkers on short-terms for several years, many of them in South America," said Marko Stampehl, global head of marketing and public relations for BBC Chartering.