Boomsma Shipping has installed two eConowind VentiFoil wind-assisted propulsion units on the general cargo vessel Frisian Sea. The ship has since made its maiden voyage to Vasteras, Sweden, with the VentiFoils in operation.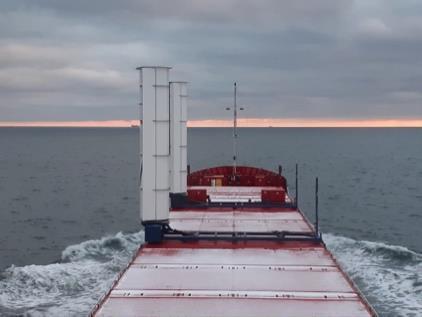 The coming month will be used to optimise the system and operations, and train the crew.
"We believe it is necessary and very important to meet sustainability challenges to reduce our environmental footprint. Together with the IMO decarbonisation goals for 2050 we want to do our part to reduce our fuel consumption and CO2 emissions as soon as possible," said Johan Boomsma, co-owner of Boomsma Shipping.
The non-rotating wings create additional thrust, resulting in fuel saving and emissions reductions. Its flatrack design means the Ventifoil can be moved using the hatch crane, and can even be used on several vessels.
Johan Boomsma added: "With the help of the Wind Assisted Ship Propulsion (WASP) project, part of the EU Interreg North Sea region programme, we will now test the performance during the coming two years. This innovative technology has to work in our daily operations with various wind conditions. We hope to find savings to be in the region of 10 percent."