The port of Rotterdam handled a total of 103.4 million tonnes of freight in the third quarter of 2020, while total throughput for the first nine months of the year was 8.8 percent lower than 2019 levels. HLPFI speaks with Twan Romeijn, business manager breakbulk at the port authority, about the port's outlook for the heavy lift market.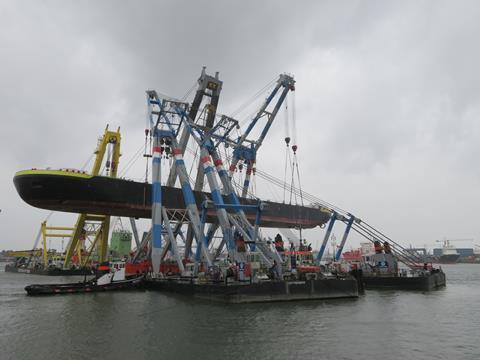 At the port of Rotterdam, Covid-19, the resulting economic slowdown and decrease in oil price have led to a slight drop in breakbulk activity, according to Romeijn, although he acknowledged that this business segment has remained "rather stable". Romeijn attributes this to the diverse breakbulk portfolio that is present within the port of Rotterdam – steel, non-ferrous metals, heavy lift/project cargo and forest products.
"There has been a decrease in demand for steel products but an increase in demand for pulp, which is used for hygienic purposes, and increasing stocks of non-ferrous products – these non-ferrous metals plants [such as aluminium operations] continue to produce, although demand from some industry segments, such as the automotive sector, is falling," explained Romeijn.
He continued: "For heavy lift and project cargo, there has been a delay in projects but the volumes have stayed fairly consistent."
A big driver of cargoes for Europe's largest seaport is the wind energy sector. The port's terminals regularly handle monopiles and jackets for the offshore wind industry, and blades and tower sections for the onshore segment. Its advantageous location and heavy lift capabilities also enable the port area to be a hub for oil and gas-related project cargoes, such as gas turbines and jackets, as well as equipment for the construction of newbuilds in the shipping industry.
Looking ahead, Romeijn said that the outlook for the heavy lift and project cargo market is heavily dependent on how the Covid-19 situation unfolds, and the severity of any second wave of infections. "Nevertheless, delayed projects will eventually take place – it is a matter of time."
In recent years, Rotterdam's facilities have benefited from investments and initiatives that boost its heavy lift and breakbulk capabilities. In 2018, four Rotterdam-based companies – Metaal Transport, Broekman Project Services, JC Meijers and RHB Stevedoring – agreed to redevelop 12 ha of industrial estate and 1,155 m of quay at the port's Waalhaven area.
As part of the initiative – known as the breakbulk carrousel – the Port of Rotterdam Authority will renovate the sites and port infrastructure, which will give the four companies space to transfer and develop some of their breakbulk operations. Environmental legislations, among other issues, have delayed the progress of the initiative but preparations for the new area have been made; Romeijn said that construction is expected to start in the first quarter of 2021.
In addition to the carrousel, RHB Stevedoring expanded its operations with the acquisition of a second mobile harbour crane – the LHM 550. With a lifting capacity of 144 tonnes, the unit will complement RHB's existing crane, the 208-tonne capacity LHM 600.
When used in tandem, the cranes have a combined lift capacity of 216 tonnes, which RHB said is ideal for handling long cargoes, for example wind turbine towers and blades as well as rails. RHB added that the mobile cranes can be deployed at every location on its 730 m quay and are two of the largest mobile harbour cranes in operation in Rotterdam.
Overall, Romeijn is optimistic: "I believe that the port of Rotterdam will maintain its strong position in the heavy lift/project cargo industry due to the many terminals, shipping companies, expertise and hinterland connections that we offer – we do our utmost to facilitate the industry and ensure it can continue doing business in Rotterdam."