ZIM has launched a shortsea ro-ro service linking Mexico to the port of Brunswick, USA.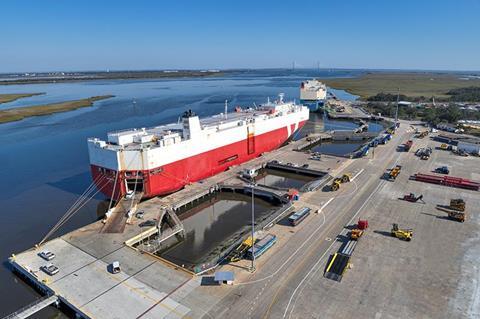 The first shipment of more than 1,000 vehicles was delivered through the gateway earlier this month. The Gold Star service offers more timely, efficient, and secure delivery of ro-ro cargo compared to shipping overland, port officials said.
The port of Brunswick added that it is currently experiencing a major increase in cargo volumes as Georgia Ports Authority (GPA) expands its infrastructure. In September alone, the Colonel's Island Terminal saw a monthly volume increase of 61 percent, handling 70,645 ro-ro units, compared to 43,900 units during the same month of last year. The port is currently undertaking USD262 million in improvements, with upgrades including 640,000 sq ft (59,458 sq m) of auto and machinery processing space across five new buildings, including 350,000 sq ft (32,516 sq m) of near-dock warehousing, plus an additional 122 acres (49.4 ha) of ro-ro cargo storage space.
Earlier this year, HLPFI reported that with a new berth under construction, and the Brunswick Harbor modification project in progress, GPA is gearing up to receive additional and larger vessels. The investments will enable the port of Brunswick to provide an annual capacity of 1.4 million units of cars and heavy machinery when construction wraps up later this year.
Alongside the investments, GPA plans to shift the majority of its breakbulk cargoes to the port of Brunswick to make way for the renovation and realignment of the docks at the port of Savannah's Ocean Terminal, as HLPFI reported here.