Construction is progressing at the Georgia Ports Authority (GPA) port of Brunswick's Colonel's Island facility, where USD250 million is being invested to increase ro-ro capacity and throughput.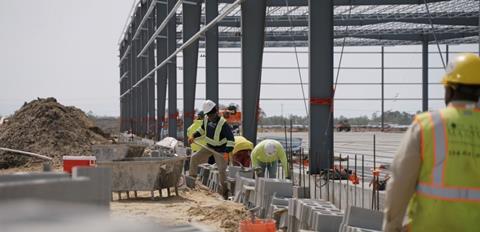 Construction includes 500,000 sq ft (46,451.5 sq m) of warehousing as well as near-dock storage to provide auto processing space for vehicles and heavy machinery. GPA is also paving the way for more parking by developing 100 acres (40.5 ha) of new space, with another 350 acres (141.6 ha) available for future growth.
With a new berth under construction, and the Brunswick Harbor modification project in progress, GPA said that it is gearing up to receive additional and larger vessels. The investments will enable the port of Brunswick to provide an annual capacity of 1.4 million units of cars and heavy machinery when construction wraps up later this year.
Alongside the investments, GPA plans to shift the majority of its breakbulk cargoes to the port of Brunswick to make way for the renovation and realignment of the docks at the port of Savannah's Ocean Terminal, as HLPFI reported here.
The improvements at Ocean Terminal are part of GPA's goal to better accommodate its expanding container operations. Griff Lynch, GPA executive director, explained: "For nearly 40 years, Ocean Terminal has been handling a mix of container ships and breakbulk vessels. The realignment is part of a broader effort to transform the terminal into an all-container operation, shifting most breakbulk cargo to the port of Brunswick.
"Completion of this project will improve our flexibility and allow Georgia Ports to optimise cargo movement, supporting our customers in delivering goods to market efficiently."
Breakbulk cargo, carried by Wallenius Wilhelmsen Ocean, will be directed to Colonel's Island Terminal.