CSBC-DEME Wind Engineering (CDWE) has reached a final investment decision for the construction of the heavy lift and installation vessel Green Jade.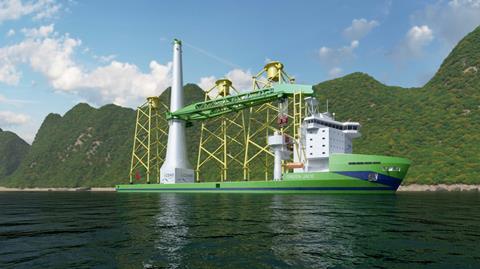 After signing an early works contract in April 2020, as HLPFI reported here, CDWE has now placed an order for the newbuild, which will be built at the CSBC facility in Kaohsiung, Taiwan. It is set to be delivered in 2022.
CDWE said the newbuild signals its ambitions to support the development of the offshore wind industry in Taiwan and the wider Asia Pacific region.
Robert Tseng, chairman at CDWE, said: "Green Jade will be capable of installing mega monopiles and jacket structures at greater water depths. With DP3 (dynamic positioning 3) technology this special offshore installation vessel can continue operations under the most challenging conditions."
Tseng added that Green Jade – which will be equipped with a 4,000-tonne capacity crane – "will be uniquely positioned to meet the future requirements of our customers and the trend towards larger capacity turbines and bigger wind farm projects".
The vessel will be deployed for the Hai Long offshore wind project and Zhong Neng offshore wind farm – for which CDWE signed contracts for in 2019.