Air charter broker Chapman Freeborn played a key role in the delivery of a mobile hospital onboard a Boeing 747 freighter from Johannesburg in South Africa, to Conakry in Guinea to support the region's Covid-19 response.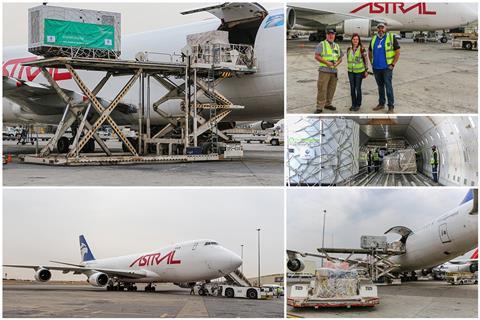 The cargoes comprised generators, tents, HEPA filters and medical equipment; the mobile hospital has the capacity to provide up to 200 people with treatment.
Chapman Freeborn said it worked in partnership with BDJ Freight International, airlines, airports and freight forwarders to execute the move, with communications spanning across the UK, South Africa, and the UAE.
Divan Hamman, general manager at BDJ Freight International, said: "Assisting the client to deliver the facility within three weeks from production to delivery at final destination was a challenge but something we looked forward to and succeeded in managing."
Gerhard Coetzee, Chapman Freeborn cargo charter manager, South Africa, added: "Having been involved with multiple charters during the current pandemic, this was definitely an interesting project to be a part of – and it wouldn't have been possible without all the parties involved. Being involved from day one, as the project evolved and then successfully flew, is a proud achievement."