The Drewry Multipurpose Time Charter Index increased to USD10,294 per day in October, representing a rise of 2.5 percent over the September 2021 rate.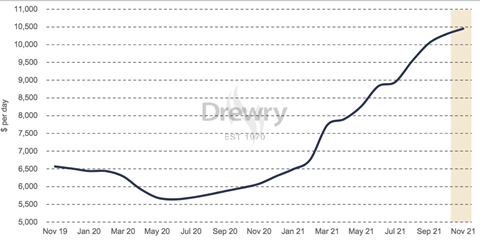 Drewry's index is up 61 percent since the start of the year and 72 percent since October 2020. The analyst expects the index to rise a further 1.5 percent in November to reach USD10,450 per day.
The shortsea sector continued to rise strongly over October as demand levels remained high and spot vessels scarce. "The end of the year is usually a peak demand period for this sector. While this has been an unprecedented year, and we are yet to return to 'normal', we would not expect there to be a significant change to this trend over the next few months. Indeed our expectation is that shortsea rates could keep the index firm," said the analyst.
It added that the weakening of the dry bulk rates over the start of November, albeit from exceptional highs, and the unofficial capping of container freight rates, could see period rates for the larger, heavy lift-capable vessels start to plateau towards the end of the year. There has been some activity on the spot market again and this will also add to a softer market outlook.