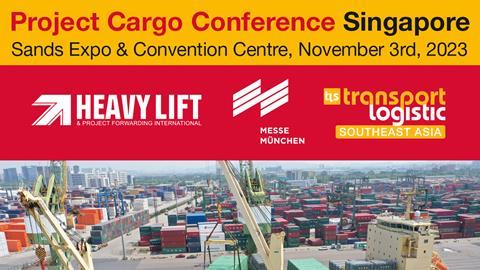 Registration for the event is free, and also gains you access to the three-day tlac Southeast Asia exhibiton.
10 -10.15
Welcome from HLPFI editor David Kershaw
—
10.15-10.45
Keynote: Singapore as the leading logistics hub in APAC.
—
10.45-11.45
Panel discussion: Does the reality match the rhetoric when it comes to 'China-plus-one' sourcing strategies?
A number of factors over recent years – not least the Covid-19 pandemic – have caused manufacturers to look to Southeast Asia nations for new facilities, reducing their exposure to supply chain disruptions and political tensions. This has resulted in increased investment across the region, but how much of an impact has diversification away from reliance on China really had on Southeast Asia's manufacturing locations and its supply chains?
—
11.45-12.30
Panel discussion: A look at the region's project hotspots.
There has been a marked increase in volumes being imported to and exported from the APAC region, including cargoes for wind energy projects, as well as oil and gas, power and mining. What are the key projects and verticals across the region that are likely to provide work for the project logistics industry in years to come?
—
12.30-1.30
Networking lunch
—
1.30-2.30
Panel discussion: Multipurpose shipping's position in a changing landscape.
As environmental measures ramp up worldwide and discussion continues around future fuels and their availability, shipowners and operators have some difficult decisions to make regarding fleet renewal. The costs arising of the EU Emissions Trading Scheme (ETS), meanwhile, will be passed on by carriers to customers– including those exporting to Europe from Asia. How these taxes will be allocated, collected, and enforced is posing questions. EEXI and CII regulations, too, are more taxes to deliberate. Our panellists will consider the outlook for multipurpose shipping, and the potential pitfalls.
—
2.30-3.15
Panel discussion: Mitigating risks through innovation.
There are multitude risks to the heavy lift and project logistics supply chain and its actors in Southeast Asia, among them being strict Australasian biosecurity measures; eastern Asia serving as potential backdoor to the Russian market, exposing risk of sanctions; rising costs resultant of emerging market volatility; and supply chain recalibration. The region isn't immune to issues facing projects globally either – be it cost inflation, staff shortages, infrastructure limitations, and environmental regulations. Our panel will debate the best strategies to mitigate these risks and how innovation and digitalisation will be central to minimising costs.
—
3.15-3.30
Closing remarks from HLPFI editor David Kershaw
—
3.30-4.30
Networking drinks
Registration is simple, quick and free. Secure your spot by completing the online registration form here.