The South Carolina Ports Authority (SCPA) Hugh K. Leatherman terminal – a container terminal in North Charleston, USA – is on schedule for a March 2021 opening, following the completion of several construction milestones.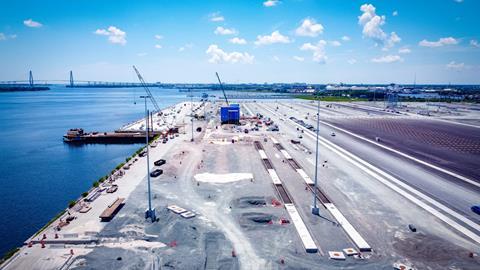 The final concrete pour for the wharf deck at the terminal was completed in July, and foundations have been installed and steel erection work started for the six-storey refrigerated container racks.
In addition, five ship-to-shore cranes with 169 ft (51.5 m) of lift height above the wharf deck are being fabricated by ZPMC in Shanghai, China. 25 hybrid rubber-tired gantry cranes are also set to arrive later in 2020.
Jim Newsome, SCPA president and ceo explained: "The Leatherman terminal will enable S.C. Ports to handle more cargo and bigger ships. Businesses depend on us to efficiently move their cargo, and this flow of goods creates more jobs and investment in South Carolina."
S.C. Ports is in the final year of a six-year capital improvement plan. The Leatherman Terminal will be able to handle four 14,000 teu vessels simultaneously in 2021.
"Phase one of the Leatherman Terminal will give us the ability to handle a 19,000 teu ship, should one come to the East Coast, " added Barbara Melvin, chief operating officer at S.C. Ports.