Crowley Maritime plans to build and operate an all-electric harbour tugboat to serve the port of San Diego, USA.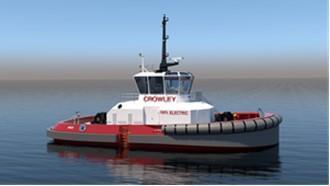 The vessel, named eWolf, will measure 82 ft (25 m) and have 70 tons (63.5 tonnes) of bollard pull. Master Boat Builders in Coden, Alabama, will build the tug in cooperation with Crowley Engineering Services and Jensen Maritime – its recently integrated naval architecture and marine engineering group. eWolf's battery system will be charged at a shoreside station developed with Cochran Marine.
The tug will feature a fully integrated electrical package provided by ABB. With 360-degree visibility, the tug will also feature ABB's artificial intelligence technology (AI) to increase safety and efficiency for mariners.
Over the first ten years of its use, Crowley said the vessel will eliminate 178 tons (161.5 tonnes) of nitrogen oxide emissions, 2.5 tons (2.3 tonnes) of diesel particulate matter, and 3,100 tonnes of CO2 compared to a conventional tug.
Crowley said the vessel is expected to be operational by mid-2023 and will serve the port of San Diego's Tenth Avenue Marine Terminal.