Damen Shipyards Group has laid the keel of a crane barge that will be ultimately delivered to Panama.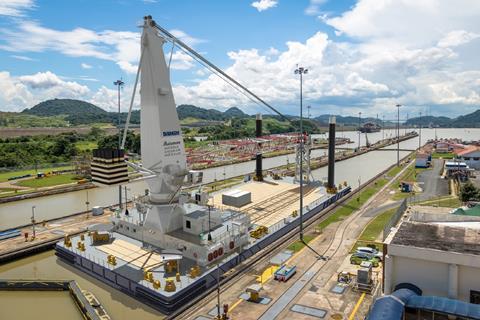 The crane barge is under construction at the Damen Yichang Shipyard in Hubei Province, China – which is operating at near-full capacity since the initial Covid-19 outbreak, said Damen. The barge measures 75 m x 32 m and will be able to lift 625 tonnes to a height of 25 m.
"We are confident that the crane barge 7532, with its Huisman crane, will serve the clients needs," said Olivier van Papenrecht, sales manager at Damen Americas.
The shipbuilding company – which was awarded the tender in August 2019 – said that given the ongoing pandemic, many of its engineers are working remotely, and communication with the client is being conducted digitally. Additional safety measures have also been introduced such as a thorough cleaning programme, body temperature controls upon entry to the yard, and the observation of safe working distance guidelines.
After the installation of the Huisman crane, the barge will be transported on a heavy lift vessel to the port of Balboa in Panama where final tests will be conducted before it enters service.