dship Carriers has boosted its fleet with the delivery of the newbuild F-500 vessel Charlie.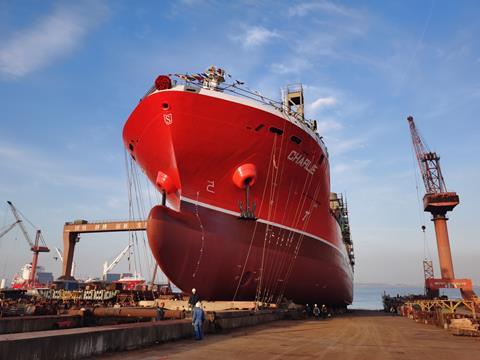 dship said that with this new vessel, the company is enhancing its capabilities in the multipurpose heavy lift market. The ship is equipped with two Liebherr cranes that feature a maximum lifting capacity of 250 tonnes each.
Developed with the goal of reducing fuel consumption while increasing stowage flexibility, Charlie is fitted with a Becker Mewis Duct device and a Becker rudder. The energy-saving technology, manufactured by Becker Marine Systems, consists of two elements mounted on the vessel: infront of the propeller and an integrated fin system.
"The newest fleet member is dship's next step toward environmentally friendlier shipping solutions supporting lower consumption," the company explained.
dship's fleet currently consists of several F-500 multipurpose heavy lift vessels, the strongest of which – Mick and Keith – have a combined lifting capacity of up to 500 tonnes. With a 75 m-long main cargo hold and adjustable tween decks, the F-500 vessel type provides various stowage options for clients' needs.
"Charlie is a further part of dship Carriers' fleet expansion programme, and it is part of the company's sustainable growth for the future. We are proud of our contribution and wish the crew all the best on future voyages," said Lars Feller, global vice president at dship Carriers.