Maritime transport, by volume, is by far the most efficient mode of transportation, yet it contributes 2-3 percent of the world's greenhouse gas (GHG) emissions annually. If it were a country, ocean shipping would be the world's fifth largest emitter of CO2.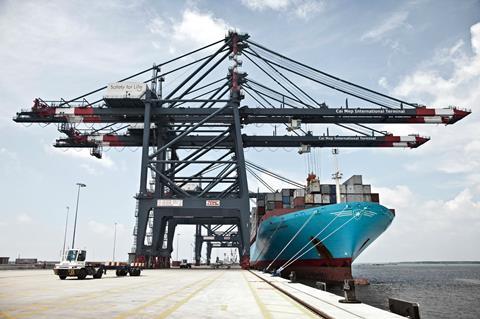 The European Commission's Fit for 55 package aims to reduce CO2 emissions in the bloc by 55 percent over 1990 levels by 2030. Shipping looks set to be included as part of the EU Emissions Trading Scheme (ETS), and the cost for clients looks set to be significant per freight equivalent unit (feu).
Elimination of GHG emissions is a significant challenge – one that is too large for any one company, country or jurisdiction to manage alone. But collectively, steps are being taken to 'green' shipping in both the short, medium and long-term. By 2050, GHG emissions need to be reduced by 50 percent compared to 2008 levels, according to mandatory IMO goals.
Container shipping line Maersk provided a summary on the ETS scheme and its application to shipping markets.
The EU ETS uses a 'cap-and-trade' principle. A cap (limit) is set on the total amount of GHG that can be emitted by the factories, power plants, ships and other entities that are included. Over time this cap is reduced, resulting in a gradual reduction of total emissions.
Within the cap, the various entities purchase allowances that can be traded between themselves. At the end of each year, all entities must hand in allowances equal to their emissions. Each allowance counts for 1 ton of CO2. Since GHG emissions are variable, the price per allowance fluctuates according to the market demand and supply of emission allowances.
This concept allows for an entity that reduces its emissions to keep spare allowances for future needs, or to sell to others. The intention is that the carbon price promotes and rewards investment in decarbonisation technology.
The EC's proposal follows vessels, not cargo. This means that it requires that shipping companies purchase allowances for:
50 percent of emissions from voyages departing from an EU port to a non-EU
50 percent of emissions from voyages departing from a non-EU port to an EU port
100 percent of emissions from voyages between EU ports and
100 percent of emissions from ships at berth in an EU port
This, in turn, determines the number of allowances which the shipping company must hand in at the end of the year. (Note that the 50 percent figure for voyages between EU and non-EU ports means that these voyages will incur a lower carbon cost in ETS than a voyage between two EU ports.)
Europe's ETS is not new. Historically, new sectors joining the ETS have benefited from a gradual inclusion through several free allowances in the first years. This will not be the case for shipping.
Instead, shipping will have a phase-in period and will be required to hand in allowances corresponding to a percentage of their emissions. This phase-in means that shipping companies would be required to hand in allowances according to the schedule below:
20 percent of verified emissions reported for 2023
45 percent of verified emissions reported for 2024
70 percent of verified emissions reported for 2025
100 percent of verified emissions reported for 2026 and each year thereafter
The phase-in means that the carbon price per ton CO2 applied to shipping gradually increases until 2026.
These measures have yet to be adopted formally. The Council of the European Union (EU Member State government ministers) and the European Parliament (directly elected representatives) must both agree on a joint legislative text.
In June 22, 2022 the European Parliament adopted its version of the legislation – which was quite different to that proposed by the EC. For shipping, it suggests changes to voyages between EU and non-EU ports, where the percentage is increased to 100 percent. This significantly increases the reach of the EU ETS beyond Europe.
This would have a significant financial impact for shipping as compliance costs increase.
Furthermore, the version of the European Parliament abolishes the phase-in period, instead applying the ETS for 100 percent of emissions from 2024.
The revised legislation also introduced the concept of a port at risk of carbon leakage – applying the ETS carbon price to ports within 300 nautical miles with a transhipment share exceeding 60 percent. This means that the cost of shipping could also increase for voyages to/from ports that meet these criteria, even if they are further outside the EU, in essence pushing the geographical spread of the last/first port before/after the EU.
The assembly proposes that carbon pricing for shipping is applied not only to CO2 emissions, but also to emissions of methane and nitrous oxide.
On June 29, 2022, the council of the European Union adopted its version of the ETS legislation. In its text, it suggests retaining the commission phase-in of allowance requirements, resulting in a gradual increase in the number of allowances needed and thereby the carbon price.
The council position also includes the port at risk of carbon leakage-concept, using the same parameters. The text agreed by EU Member States in Council also includes non-CO2 emissions (nitrous oxide, methane) for reporting from 2024 with the option to subsequently include these in the ETS carbon pricing
The cost of compliance with the ETS will likely be significant.