In Europe, there is an increasing trend of developers having to submit sustainability requirements during offshore wind energy tenders. Market intelligence provider Esgian shed some light on the hoops that developers will now need to jump through, and the knock-on effects that will be felt by suppliers.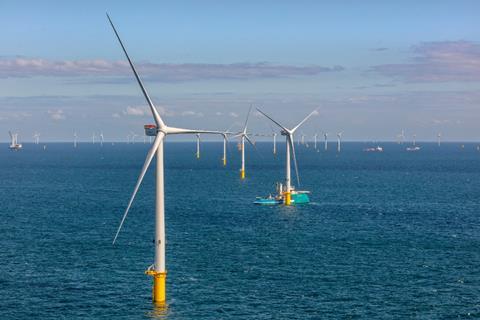 The need to submit an offshore wind energy project's sustainability credentials in the pre-qualification stage has only started to be seen this year. Norway was the first to impose carbon footprint reporting requirements. The Netherlands, Germany and the UK, among others, are following suit.
Sustainability and circularity are increasingly important factors that will need to be considered during the tendering process – particularly for projects upcoming in the Netherlands, where the government has set targets of reducing material usage by 50 percent by 2030 and achieving a completely circular economy by 2050.
The size of one modern wind turbine and its foundations is roughly equivalent in scale to the Eiffel Tower; thus a number of European governments are taking a close look at material usage and emissions. A project's greenhouse gas emissions, waste management plans, and recycling/reuse strategies are all factors that will be considered by authorities, to one degree or another, when awarding tenders.
For instance, Norway's Sørlige Nordsjø II and Utsira Nord projects required developers to supply a four-page document on a project's GHG footprint, including a climate and decarbonisation plan, absolute and relative GHG emissions, and former experience in this arena.
Moreover, a four-page document on waste, recycling and reuse was required. The GHG footprint frameworks were to be based on ISO140401/4044 standards.
For the IJmuiden Ver Alpha and Beta projects in the Netherlands, the pre-tendering requirements appear to be much more comprehensive; four circular strategies featuring 220 pre-defined variables per section need to be addressed by developers.
Developers alone are unlikely to be able to provide the requisite data on such projects and will need the support of their tier one, two and three suppliers. Moreover, considering that many of these projects will be awarded years in advance and well ahead of components actually being built, authorities will likely accept reasonable estimates based on recognised frameworks.
Esgian said that transportation can account for as much as 50 percent of an offshore wind energy project's lifetime emissions and is something that can be reduced dramatically by using local suppliers and O&M activities.
This opens something approaching the look of a 'backdoor' to European suppliers and logisticians servicing European projects.
Despite its green credentials, offshore wind energy is a heavy industry and it was only a matter of time before its impact, and the impact of all its suppliers, was scrutinised and accounted for. Quite how this will be regulated, and discrepancies penalised, remains to be seen.