Fesco Transportation Group has coordinated the delivery of heavy equipment from Russia to Bangladesh for the Rooppur nuclear power plant project.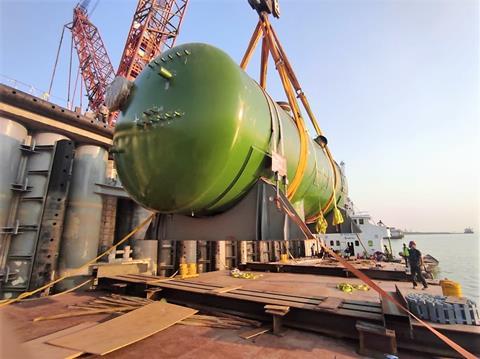 The shipment comprised a reactor vessel weighing 374 tons (314.8 tonnes); a steam generator weighing 334 tons (303 tonnes); a pressure compensator weighing 191 tons (173.2 tonnes); and a polar crane weighing 80 tons (72.6 tonnes).
The cargoes were loaded onto a crane vessel at the port of Novorossiysk in Russia, before being shipped to the port of Mongla in Bangladesh.
At the port of Mongla, the equipment was transferred onto river barges for transport along the inland waterways of Bangladesh.
To unload the reactor, Fesco mobilised a 600-ton (544-tonne) capacity crane.
Fesco deployed modular trailers for the final leg of the journey to the Rooppur nuclear power plant construction site.