Nanjing Jinling shipyard in China has launched Finnlines' second hybrid ro-ro vessel, Finneco II. The keel-laying ceremony for the third, Finneco III, took place the following day.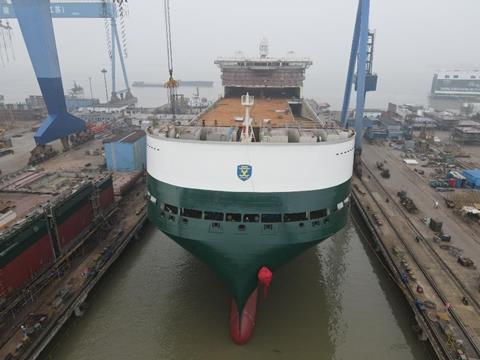 Construction for Finneco II began September 2020, as HLPFI reported here.
The vessels are part of Finnlines' EUR500 million (USD585.7 million) newbuilding programme, which includes, a series of three ro-ro vessels and two ro-pax vessels.
Finnlines said both vessel types will be larger and more eco-friendly than any vessel presently in its fleet. In addition, the vessels will be fitted with state-of-the-art engines with emission abatement technology, an air lubrication system, lithium-ion batteries and solar panels. The ro-pax vessels, which will be delivered during 2023, will also have a shore-side electricity connection to attain zero emissions while in port, Finnlines said.
The first hybrid ro-ro, Finneco I, is scheduled to start sea trials in September. Finneco I will then begin operating in Finnlines' service at the end of 2021, and the two sister vessels in 2022. All three vessels will sail under the Finnish flag.
Emanuele Grimaldi, ceo of Finnlines, said: "We are proud that these advanced hybrid ro-ro vessels will join our fleet. They will improve our energy efficiency significantly and enable us to provide more sustainable services than ever before."