Four of Volga-Dnepr's AN-124-100 aircraft are back in business, according to HLPFI's sister publication Air Cargo News.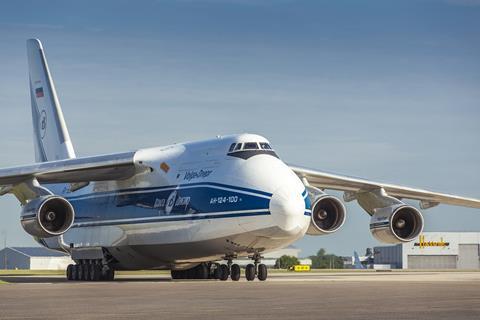 HLPFI readers will recall that Volga-Dnepr decided to ground its entire fleet of AN-124s after one was forced to make an emergency landing at Tolmachevo airport in Novosibirsk, Russia, on November 13.
Following the incident the Federal Agency for Air Transport set up a commission, including Volga-Dnepr specialists, to identify the causes. By the end of January, Volga-Dnepr expects five of its aircraft to return to the skies as it completes technical checks.
Speaking to Air Cargo News, chief commercial officer Konstantin Vekshin, said that the temporary suspension of the fleet around the end of November – "at the peak of the unprecedented demand last year" – was a blow.
"It was a mutual blow, for us and our customers," said Vekshin. "For us it was not about the money, it was all about safety and we wanted to make a timely call and look into things. It was important for us to do what we had to do."
He added that while some of the company's customers were able to use its Boeing 747 freighters as a substitute, in other cases, particularly for the aerospace market, "the AN-124 was absolutely irreplaceable".
Vekshin said the company is now shifting its focus to sensitive shipments. "One of the first flights that we carried out [with the AN-124-100] was vaccine-related," he said. "We're going to be very selective in regards to flying other types of cargo for the time being.
"Four aircraft is a good number for us to be able to deal with these shipments. And we will have more [up and running] towards the end of the month. We'll also be focused on the industries and customers who are not able to get by without the AN-124s."
Read more at Air Cargo News.