Global Energy Storage (GES) is acquiring part of the Stargate Terminal from Gunvor Group at Europoort in Rotterdam, where it will develop a 20 ha-plus site.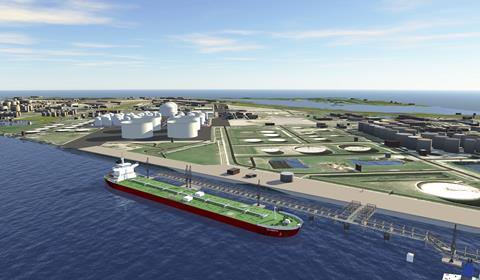 The vacant land will be transformed into a large industrial site for storage solutions for low-carbon products. The deal has been formally approved by the Port of Rotterdam Authority and will see the development of a multipurpose jetty as well as infrastructure for the consolidation of biofuel storage; storage for renewable fuels; gas storage; gas-to-chemicals production; green and blue hydrogen; and hydrogen carriers such as ammonia.
Peter Vucins, ceo, said: "Our vision is to take an existing oil terminal and develop it into a state-of-the-art low-carbon products terminal. This development is the first stage of our plans for an international network of infrastructure, serving the energy transition needs of our customers."
GES, which was formed earlier this year by the management team from Global Petro Storage (GPS), has a focus on energy transition fuels and fuels-of-the-future. Its strategy is to concentrate on key global hubs, international cross-linked business, and long-term relationships with top-tier energy suppliers.
Eric Arnold, executive chairman of GES, added: "This is the first of what we hope will be many deals. We are looking to develop an international network of storage and logistics infrastructure for low-carbon commodities. You can expect to see a rapid expansion across 2021-22."