The port of Gothenburg plans to completely rebuild and modernise a 300 m-long quay, and Swedish construction company Peab has been contracted for the first phase of the job.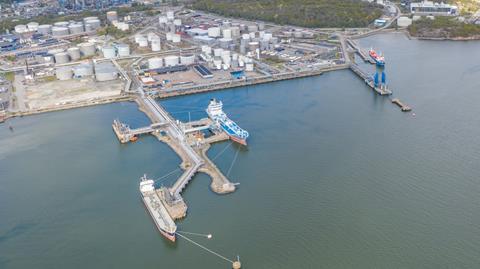 Gothenburg's energy port welcomes 2,200 ship calls every year, and the port has confirmed that its Kustkajen quay will be rebuilt from scratch. "Kustkajen 2.0 is an immensely important investment for the port of Gothenburg, where we also ensure to further strengthen the opportunities for society's transition to renewable energy sources, which will only accelerate during the quay's lifespan. The project is entirely in line with the port's long-term ambition to become Scandinavia's largest hub for renewable energy, and we are pleased to have a strong contractor in place, Peab, to help us realise this," said Erik Hallgren, vice president infrastructure at the Gothenburg Port Authority (GPA).
The project will involve geotechnical improvements, new foundations, demolition and reconstruction of the quay, and in some parts, a new process layout and equipment. During the construction phase, ships will still be able to call and ongoing operations will continue, albeit to a limited extent.
The feasibility study and preliminary planning will begin in Q4 2023. Construction works are scheduled to commence in Q1 2026 and continue until Q1 2031.