Drewry's multipurpose time charter index increased to USD10,487 per day in November, representing a rise of 1.9 percent over October 2021.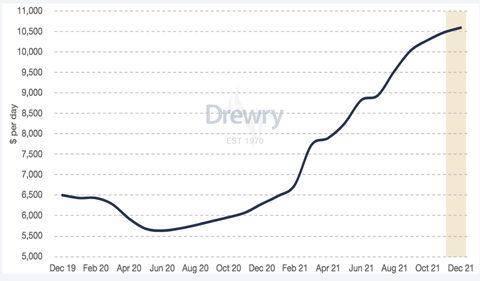 The speed of rate growth has slowed; rates climbed 2.5 percent between September and October 2021. The slower growth, according to Drewry, indicates that while the continued capacity constraints has kept the spot market demand high, the rates have been impacted by the competing sectors – container and bulk – reporting weaker charter rates. "Both competing sectors reported spot rate decreases (from record highs), which corresponded to a plateauing of multipurpose rates," Drewry explained. "However demand remains firm in both the shortsea and longer-haul project cargo sectors as supply constraints continue."
For the former, demand remains steady but is expected to weaken towards the year end due to the impending holiday season. For the project carrier sector demand remains high for the medium term particularly, around a resurgence in confidence for oil and gas projects due to the strengthening oil price and scarcity of LNG over 2021.
Overall, Drewry's index is up 63 percent since the start of the year and is up 69 percent since November 2020. Drewry expects the index to rise a further 1.1 percent in December to reach USD10,600 per day.